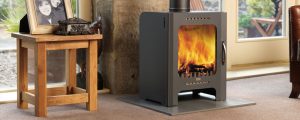 Why choose a Firebelly?
Firebelly design and manufacture wood burning, multi fuel and gas stoves teemed with the latest technology, combined with time honoured and beautiful designs to offer connoisseurs everything they would want from a contemporary stove.
Firebelly offer a fantastic dual view stove. This double sided model is very popular and offers a 360 degree viewing experience in your room. Whether day or night it will create comfort and warmth.
Firebelly recommends your stove is installed by a Hetas registered installer such as Guy Crabb. Hetas details many regulations that you must adhere to when installing a stove, flue system or chimney as well as various recommendations and good practices.
---
For more information on Firebelly stoves visit: http://www.firebellystoves.com/